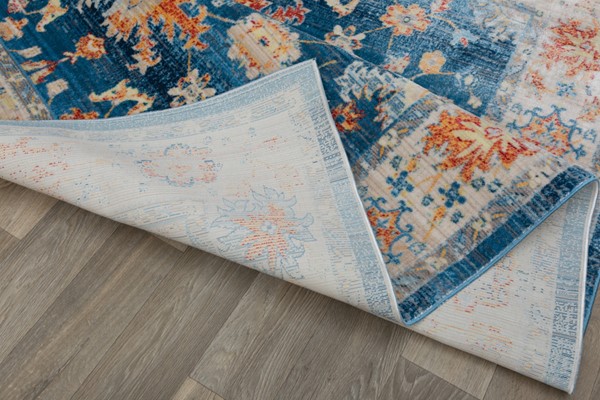 When selecting an area rug, several factors will go into determining the size, shape, material, and even the thickness you want. Just like buying a home, it is all about location, location, location. Ask yourself these questions:
- Where will you use the rug?
- How much traffic does that room get?
- Must it hold up to wet shoes and outdoor debris?
- Will there be food in the room?
- Are pets likely to sleep on the rug?
- Will your children play on the rug?
- Do you like to sit or lie down on the rug?
Location
If your rug is in a formal living room, a hand-tufted silk or wool rug might work, but if the carpet graces your family room, where the kids and pets will play on it, nylon or viscose are more durable fabrics. Also, some family members might find the wool in a rug scratchy on bare legs and arms.
High traffic areas such as an entry or hallway, or a busy family room might benefit from sisal or jute if no one wants to sit on them. Moreover, either sisal or jute under a table where crumbs can filter between the spaces in the weave is probably not useful.
Size and shape
In the case of rugs, size matters and bigger is better. If a rug is too small, it chops up your design. The perfect size can pull everything together into a cozy space. When sizing up your carpet needs, consider the room's orientation. If the room is a rectangle, but you want your sitting area to be a square with a walkway behind the sofa, opt for a square rug. In breakfast nooks, use a round or octagonal rug under a round or octagonal table. Use square under a pub table too. If your dinette is oblong or oval, a rectangular rug is best.
- In the dining room, choose a rug size with at least two or three feet beyond each side of the table to allow for pulling out chairs. Most formal dining tables need a rug that is eight feet wide or wider to accommodate the larger chairs.
- In your living room, leave at least a one-foot space between the edge of the rug and the walls. Your carpet should be large enough that at least the front feet of your main furniture pieces can rest on the rug.
Pile or thickness
When determining the thickness or pile, consider whether a piece of furniture will fit entirely on the rug or be partially off it. If the pile leaves the front feet higher than the back, seating might feel awkward.
If you need help deciding which rug will best fit in your new home, talk to a design specialist at a local carpet store.