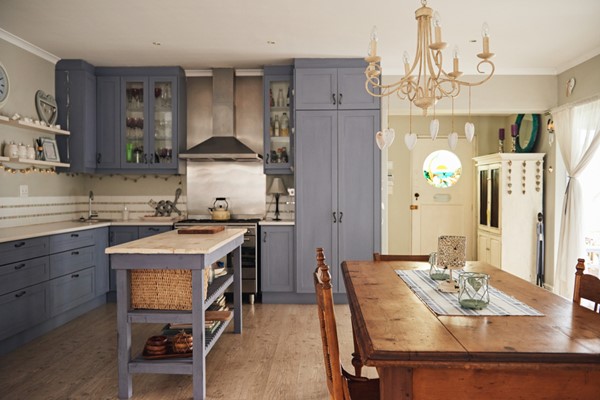 Setting up a country style of kitchen is undoubtedly an excellent way to go if you want to create a modern kitchen while on a budget. Country kitchens are model of shared memories. This style of the kitchen does not need to be expensive nor does it require a lot of work. Here are some steps to creating a country kitchen:
Painting and wallpaper: Start with earth-toned paint colors—especially for the walls. Dare to add additional colors to your country kitchen such as shades of pink, red, green and blue. Sprinkle in some black and white with touches of grays appearing in your accent pieces. Search for patterned wallpaper that carries a country print. Finally, finish off the room with solid prints
Flooring and tiles: A natural wood floor would complete any country kitchen—with laminate flooring as a good runner-up where that is unavailable or out of the budget. If you already have proper flooring and are on a budget, you can add braided rugs to your floor. Accent your flooring with flagstone or tiles. Including a theme of roosters or sunflowers brings a great country touch to your kitchen. Line the backside of your countertops with country accents that you can pick up at any flea market or garage sale.
Storage: Look at creative storage ideas such as corner cabinets made out of wood. A wooden baker's cabinet is a terrific touch if you have the extra room. Wood cupboards that have open glass doors are also perfect for a country kitchen. You can find some antique-looking rustic baskets of different sizes which help to store lots of small items.
Furniture: Furniture is critical in your country kitchen, and only certain items are going to work. It is best to pick from wicker or natural wood. Ideally, you want to get something that looks worn out when putting in a country kitchen. Distressing can be done quite affordably to furniture found at secondhand stores and flea markets. If you want to stay with what you have, then make or buy some country-style slipcovers with a country print. Put a rocking chair or an old bench in a corner for an added finish.
Decorations: Decorate your new kitchen with things that you may already have especially in your attic. Look for old-fashioned bowls and unique pottery. Old quilts are a big score and can make any country kitchen look authentic. The great thing about country kitchens is that the items do not necessarily have to match or even be perfect.
Getting your country kitchen isn't too difficult with some creativity. You can speak to an interior décor expert today for more ideas.